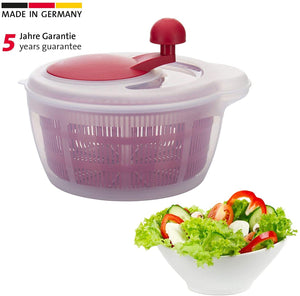 Made in Germany from high quality plastics 
Easy spin, reliable mechanism great for washing all vegetables and leafy greens like lettuce, kale and spinach 
Practical pouring spout with a 5 liter capacity 
Dishwasher Safe 
5 Year warranty 
Westmark of Germany is well known for its quality craftsmanship of kitchen gadgets. Westmark has been making reliable kitchen products for over 50 years. Westmark offers a wide range of practical and uncomplicated kitchen products designed to make cooking and life in the kitchen easier. For traditional reasons, Westmark produces most of their products in Elspe, Germany.